2015 Conference - Technical Conference Information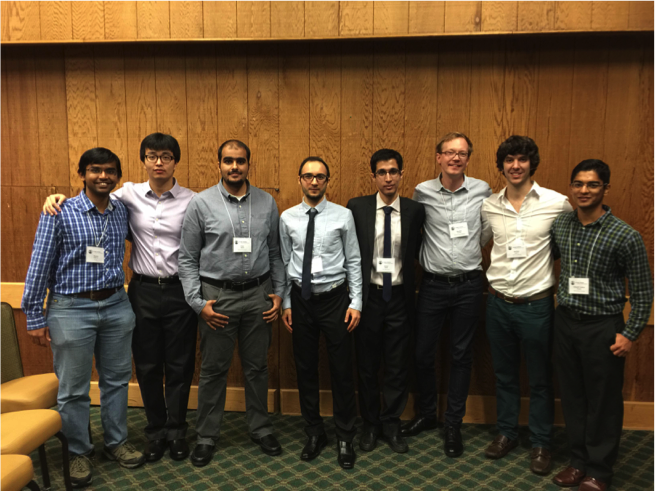 Asilomar 2015: Student paper contest finalists.
Left to right: Mandar Kulkarni, University of Texas at Austin, YIn Liu, University of Minnesota, Omar Aldayed, Pennsylvania State University, Shervin Minaee, New York University, Mahdi Imani, Texas A&M University, Rasmus Brandt, KTH - Royal Institute of Technology (second prize winner), Santiago Segarra, University of Pennsylvania (first prize winner), and Srikanth Tenneti, California Institute of Technology (third prize winner).
2015 Asilomar conference plenary Talk: Dr. Frank R. Kschischang, Fiber-optic Communication via the Nonlinear Fourier Transform



Acknowledgement letters: e-mails notifications indicating the selection status of each submission are scheduled to be e-mailed NLT early July, to each author(s) e-mail addresses included in their submissions. No notifications are sent by regular mail.



If you submitted a paper and have not received a notification, please first check with the paper main POC. You may also check the Advance Program Author List at the back of the program for the status of the paper when it becomes available.
Should you need a personal notification mailed to you, a duplicate will be sent by sending a request to the Conference Registrar, Ms. Sue Netzorg (ph: (831) 373-8082; cell:(831) 915-4691; sscasilomar@comcast.net ). Please, include the paper number, author(s), and title in your correspondence.




Invitation Letters: See details here.